How Soundproof Offices Booths Overcomes the Challenges of Remote Work
Posted on 29 November 2022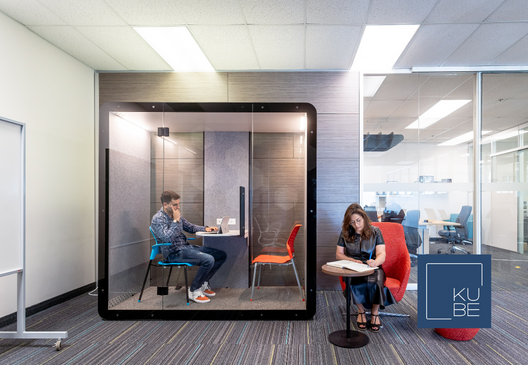 In recent years, the business world started to shift away from the idea of traditional offices, in favor of remote work. Largely spewed by the onset of government lockdowns, businesses from all industries, left with little choice, moved their operations to a remote working environment. But now, as those same lockdowns have ended, those same businesses are calling on their employees to return back to the office full-time, much to the dismay of those who grew fond of the working-from-home era.
This has left many businesses in a dilemma. They want to bring back their workforce into the office, but at the same time, they don't want to alienate their employees.
You see, studies have found that while overall productivity did slightly increase among employees working remotely, there was also an unforeseen negative effect on the average employee's mental health. Twenty- four percent of employees surveyed, reported an increase in their stress levels due to working from home. Furthermore, many reported, the isolation and disconnection of being separated from their teams actually saw the onset of a new mental health issue they hadn't previously faced.
In an effort to replicate the productivity of WFH, but still maintain company culture and overall connectivity, many businesses are now shifting towards a hybrid workplace model. For many businesses, this means reimagining the traditional workplace. With modern technology, like office booths, organizations have been able to better utilize their on-site environments to increase productivity without sacrificing connectivity.
Kubebooth is one of Canada's leading suppliers of soundproof office booths helping businesses perfect their workspace. Here's how soundproof office booths in the modern workplace can help mitigate the challenges of remote work.
Undisrupted Focus
One of the reasons working from home contributed to a boost in productivity for many office workers was the lack of disruptions prevalent in busy work environments. Whether it's the chitchat of passersby or an unscheduled call, interruptions to a task are reported to take an office worker up to 25 minutes to recover from. As a result, just a few interruptions can steal hours from the workday.
Office booths are an easy way to define boundaries at work. Whether one worker occupies a single-person office booth or an entire team congregates in a meeting booth, soundproof booths for office spaces create a physical wall between office stimuli, deterring interruptions and allowing any individual or group to focus continuously on a task until it is completed.
Workplace Flexibility
Because office booths are not assigned to any one person, it enables flexibility in the workplace. Soundproof booths create a private workspace accessible to anyone as needed, which is especially beneficial to hybrid teams working at home and at the office. When employees are on-site, they have a private and comfortable space to make their own for the day or even just a couple of hours, which they can depart and leave ready for the next person.
Facilitate Teamwork
In addition to independent work, many workers have to collaborate on projects and tasks for the best results. Whether that's internal, across depreciation, or even with outside vendors, a shared communal space is the best way to connect over ideas. Not only does everyone get a change of scenery, but they can also communicate confidently by being able to factor tone of voice and body language into communication, which is often missing from online communication platforms like instant messaging and emails.
Studies have found that socializing during work and connecting with others has been found to reduce stress and improve mental health.
Building the Modern Workspace with Kubebooth
Kubebooth offers a range of customizable meeting booths for office spaces. Their modular design makes accommodating groups of two to eight people easy. To learn more about our selection of high-quality soundproof office booths, reach out to the Kubebooth team directly.