Privacy in Restaurants & Coffee Shops with Modern Soundproof Booths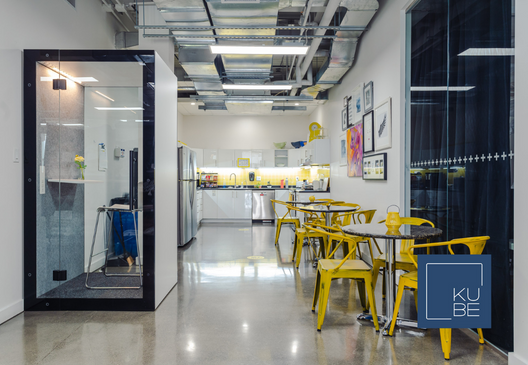 Restaurants and cafes are great settings to hold social work events, from informal meetings or individual work sessions. Studies show the change of scenery and the ambient sounds that fill these environments are what contribute to their inviting atmosphere and greater productivity. When the phone starts ringing, or an important task arises, privacy and quiet are required. Office phone booths are soundproof booths that can be installed neatly in restaurants and coffee shops to give patrons privacy and escape to the silence on demand.
Enable privacy with customizable office phone booths for restaurants and cafes.
Learn more about our selection of soundproof booths at Kubebooth.
The Benefits of Soundproof Booths for Your Establishment
Modern spaces are adapting to enable flexibility. As more offices embrace telecommuting and remote work, more people are looking for spaces beyond the office to host meetings or to spend their day. Coffee shops and restaurants are the ideal alternate setting and a favourite among professionals working remotely.
Installing high-quality soundproof booths for your restaurant or cafe encourages your patrons to stay longer, host more work events, and order more from your menus because the environment is conducive to productivity.
Quiet Space to Conduct Team Meetings
In the hustle and bustle of a restaurant or cafe, where espresso machines are steaming and conversations are roaring, management and team members still need to conduct one-on-one discussions, meetings, and strategy sessions. Meeting pods and privacy booths for restaurants create a designated quiet zone for staff to collaborate and communicate without distraction.
Choosing the Best Soundproof Booth for Your Restaurant
At Kubebooth, we offer a selection of four innovative and modern privacy booths that you can choose from to find the best fit for your space.
Less is More: The Ki booth is our individual office phone booth with sufficient space to slip away from the tables to take urgent and unexpected calls. The sleek design and customizable colours allow you to seamlessly and cohesively incorporate the soundproof booth into your interior design without obstructing your restaurant. With Kubebooth, you can choose all your interior features, from carpet colours, door handles, and aluminum corners to exterior and interior finishes to blend with your design elements and decor.
Modular Design & Portable Installation: Our selection of soundproof booths is entirely flexible. The modular design of our Kteam meeting booths expands to seat up to eight people comfortably. The portability of our entire selection of pods and office phone booths means that you can quickly shift, move, and reposition your soundproof booth to easily accommodate changes in your space or layout.
Kubebooth Means Quality: Kubebooth is a Canadian manufacturer that ensures our products are made in accordance to high design standards. With over 20 years of design and development spent on finetuning our soundproof technology, our booths are designed and engineered by experts to perform in even the loudest and busiest environments.
Ready to Enable Flexibility in Your Restaurant or Office Space with Kubebooth?