Elevate the Campus Experience with Soundproof Booths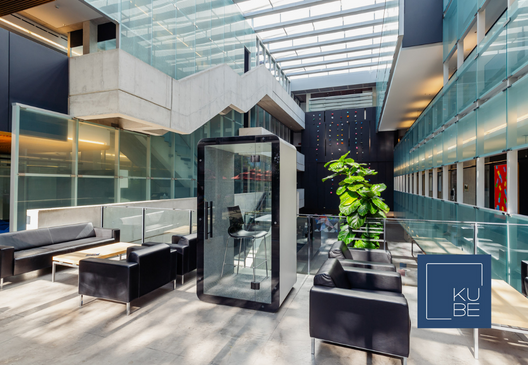 Campuses are dynamic, fast-paced environments echoing the vibrant sounds of thousands of people passing through every day. But when it comes time to focus, students and faculty may find themselves looking for a quick escape from the hustle and bustle of campus life.
Studies show that focus is almost always lost when noise reaches 80 decibels. It's not unusual for busy campuses and classrooms to reach and exceed that volume level, sometimes even getting as high as 115 decibels.
Soundproof booths for educational institutions provide an easy opportunity to get away from the noise and into solitude. Whether it's to collaborate on a project, host a quick advisory meeting, or study for an upcoming exam, modular and customizable soundproof booths for schools are the future.
Build a campus for the future with custom soundproof booths for schools and educational institutions.
Our modern soundproof booths for schools are private enclosures that keep the noise and stimuli of the exterior world away. At Kubebooth, we offer a selection of booths that can be used for meetings or independent work, well-suited for virtually any spot on campus, from libraries and student centers to dorms and lecture halls.
Explore the possibilities of privacy and productivity on campus with Soundproof Booths.
Choosing the Best Soundproof Booths for You
We put comfort and quality at the forefront of all our booth designs. The Ki, Kme, Kwe, and Kteam booths are all made with high-quality Canadian materials and designed to facilitate regular air circulation for healthy air quality. The innovative design enables portability so you can easily move, adjust, and install your soundproof booths at different locations around campus for maximum convenience.
Individual Soundproof Booths of Schools
Whether it's studying for the next class, sending emails between lectures, or adding final details to a paper, there are many reasons why the people on campus need to sit down with their laptops for a moment or two of silence. Individual soundproof booths for schools enable the option in the most crowded and noisy spaces allowing students, faculty, and staff to seamlessly access the privacy they need.
Customizable soundproof booths for individual users are equipped with enough space for one person to work comfortably with their laptop or notebooks and work away for hours. Our soundproof booths' ergonomic and customizable design features beautiful glass walls and customizable flooring that blends into the surroundings, offering both visual aesthetics and functionality.
Meeting Booths for Collaboration on Campus
Campuses aren't a place for solitude alone. It's where collaboration happens over group projects, clubs and associations, and even between professors. Meeting booths foster collaboration by creating a space where two to eight people can get together to discuss, brainstorm, and innovate without interruptions from the world around them.
Our selection of soundproof booths for meetings at Kubebooth is modular, meaning that you can adjust the size and setup to fit more or fewer people for comfort and productivity.
Why Choose Kubebooth's Soundproof Booths?
Kubebooth's soundproof booths for education institutions enhance versatility around campus and enable more opportunities to focus. While everyone has their own studying or work style, there's no question that excess stimuli can interfere with success. With soundproof booths, you can give the community the privacy they need without sacrificing the natural liveliness and dynamic of campus.
Ready Enable Privacy & Collaboration on Campus?