Modern Solutions for the Modern Office Space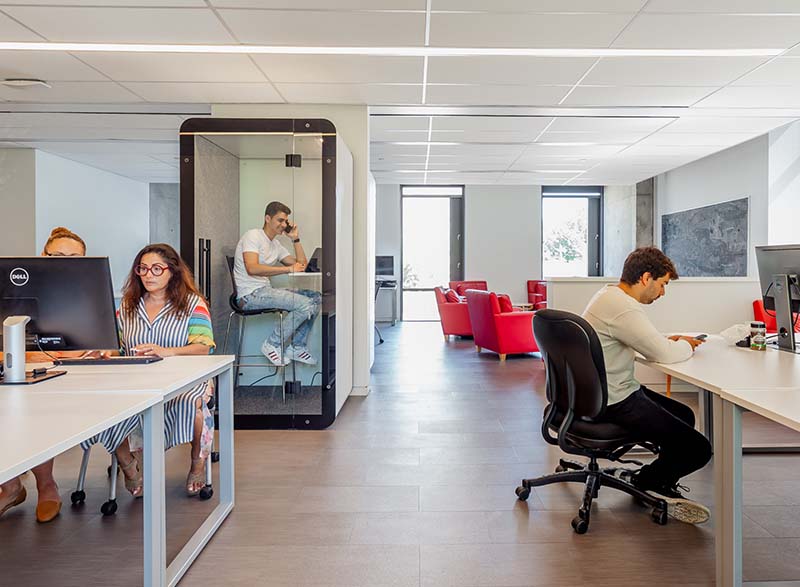 More and more businesses are embracing open workspaces. When the cubicle walls come down, offices become a space that fosters collaboration, teamwork, and creativity.
The benefits of the open office space, especially considering the popularity of the hybrid work model, are undeniable. However, one challenge persists: noise.
Studies show that interruptions can reduce productivity at work. Even the slightest distraction can consume up to 20% of the traditional 8-hour workday.
Soundproof office pods from Kubebooth provide teams with an escape from the daily sounds of the busy office into the quiet solitude of a soundproof booth to support independent work, enabling focus and productivity.
Strike a Balance between Collaboration & Concentration.
Benefits of Soundproof Office Booths
The modern office pod elevates the open workspace to enable a high-functioning office that breeds creativity, problem-solving, and efficiency while minimizing stress, communication silos, and disruptions.
Privacy: Confidential matters in business are inevitable, and even the modern work environment demands closed-door conversations on occasion. Soundproof office pods and office phone booths give you the separation and sound-dampening qualities required to execute sensitive conversations freely without being overheard.
Productivity: When it's time to buckle down and get work done, an office booth gives your team an easy way to get away from the commotion of the collaborative office space, significantly reducing the potential for interruptions. The distraction-free zone increases turnaround time on tasks while reducing employee stress.
Critical Thinking: Brainstorming as a team is only one part of the creative process. For new ideas to flourish from seeds into actionable strategies or plans, they must be mulled over and contemplated, which is best done in silence. Office pods enrich creativity by providing alone time and space where your employees can think critically for powerful ideas, strategies, and even problem-solving.
Maximize Your Office Space Today.
Customizable Soundproof Booths for Your Office
At Kubebooth, we offer a vast selection of soundproof booths for open office spaces. From single-person office phone booths and pods to larger meeting booths, there is an option for every business.
Single-Person Office Pods: Whether you're making a quick call or finishing an important project, our selection of customizable single-person office phone booths and pods are designed for comfortable and quiet work.
Collaborative Meeting Pods: Choose a two-person meeting booth or an expandable meeting booth that features an advanced modular design, adjusting to accommodate up to 6 people, facilitating anything from private conversations to collaborative team-centric discussions.
At Kubebooth, there is no limit to customization. You can choose the look, size, and placement of your soundproof office pods to suit the specific needs of your space. With more than 10 options, you can customize the interior finish, exterior finish, carpet colours, aluminum corners, and door handles for an office booth that fits aesthetically as well as functionally.
Why Choose Kubebooth for Your Office Pod
Custom Options: We offer a range of 4 soundproof office booths that can be further customized, from size and placement to colour and finishes to best suit your office space.
High-Quality Materials: All of our soundproof office booths are built in Canada with top-of-the-line acoustic fabrics and materials for longevity and durability.
Plug & Play: Once your office booth arrives, you can start reaping the benefits immediately. Featuring simple plug & play installation, moving our pods around the office and into position is easy.
Find the Right Booth for Your Office Space.