Office Phone Booths – A Perfect Solution for Hybrid Workspaces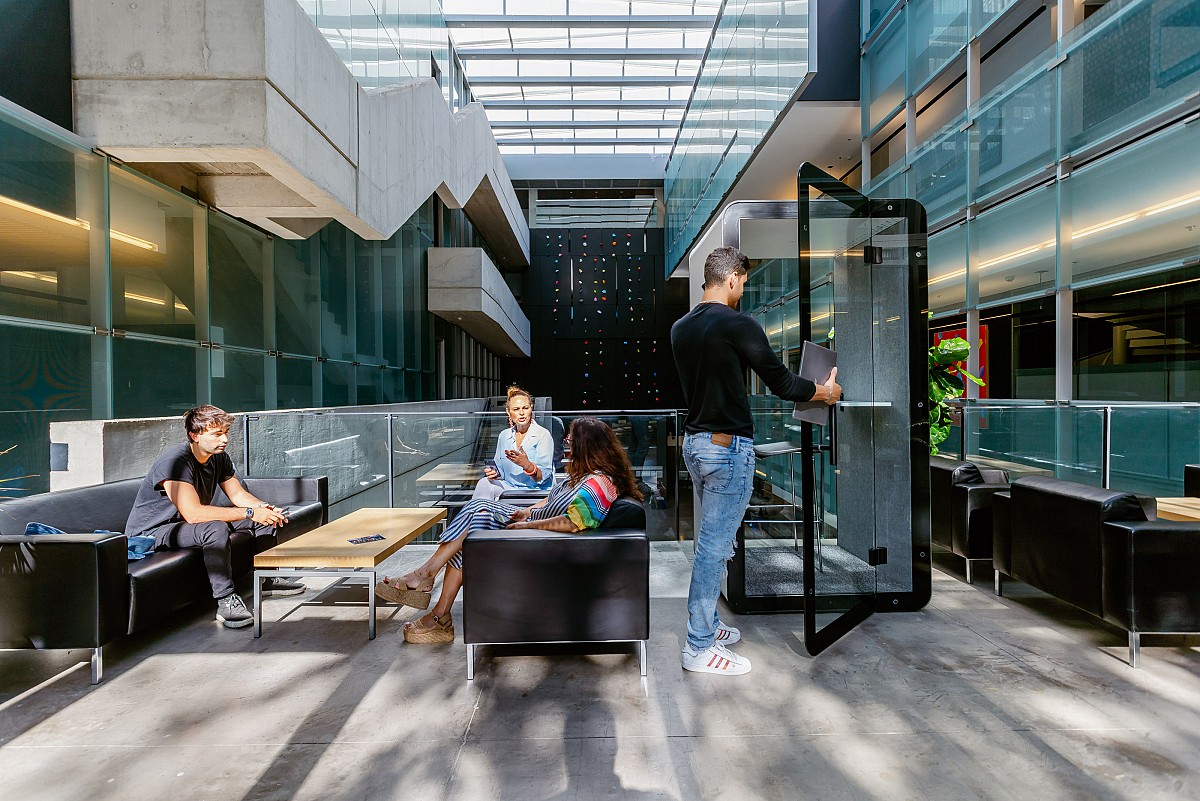 The corporate workspace is currently undergoing a restructuring. Much of this is down to the fact that millennials make up the vast majority of the workforce these days, and they're not exactly keen on maintaining traditional workspace notions.
But by far, the biggest purveyor of this evolution is the COVID-19 pandemic and its reverberating effects on the global economy, for better or for worse. Forced to downsize, a healthy number of companies have had to do away with traditional individual offices and coupled with the rise in popularity of hybrid workspaces, open-space offices make up About 70% of companies in the USA.
While it would be disingenuous to attribute the prominence of open space offices to the effects of the pandemic as they've been around for over half a century, what's clear is that they've obtained heightened significance (along with greater scrutiny) these past few years.
As the popularity of hybrid workspaces continues to soar, open-space offices are having their viability questioned at the other end of the spectrum. According to multiple research, open space offices decrease workplace communication by over 70%. They've also been shown to reduce productivity by 15%, and almost 50% of workers in open spaces are not satisfied with their sound privacy, with about 28% of them wanting an alternative arrangement.
With this level of understanding about the merits of open-space offices, it's clear that a solution must be found. The question is, how?
Upgrade Your Open Space
With office phone booths, you can enjoy all the benefits of closed offices right within your open space office.
Office phone booths (or office pods as they're alternatively known) are enclosed structures that model closed offices, with most of the benefits of their attendant features.
Office pods offer workers a break from the incessant din of open space offices, allowing them to collect their thoughts and invest all their wit into the job. Beyond this, the informal, slightly untraditional ambiance of office pods fits comfortably with the ethos of most corporate organizations these days.
These reasons (and many others besides) are perhaps why office phone booths are witnessing a major upsurge in popularity in hybrid workspaces.
Advantages of Kube Booth
1. Kubes keep the noise outside
According to this study made by the University of California, it takes approximately 23 minutes to regain focus after an interruption. With soundproof office pods, you can keep out the distractions and focus fully on being productive or having a private conversation with a client or a colleague.
2. Kubes promotes a Happier Workforce
A University of Warwick survey reveals that happy workers are about 15% more productive, while other studies indicate that happy workers are 66% less likely to take sick leaves. Office phone booths can promote greater workplace satisfaction and happiness.
3. Kubes are Cost-effective
Office phone booths can help you maintain your open space office without any need for construction, downtime, and associated costs.
4. Kubes is Easy to Set Up
All our Kubes are on wheels – they are mobile, modular, easy to install, and extendable alternatives that make them extremely useful in a fast-paced environment or if you're between offices/require constant changes.
5. Kubes are Stylish, Chic, and Colorful
Kube Booths can help promote a colorful and ultimately happier atmosphere at your workplace. They are also offered in a multitude of stylish designs that will fit right in with the ambiance you're trying to craft for your open space office.